Review Sponsor Yumida Huda | Mama Darwiish | Azurah
8:51 PM
Greetings and Assalamualaikum to all.

Hari ni nak review sponsor seterusnya untuk 1st Mini Giveaway by Shad. Ada yang belum join? Jemput la sama-sama. Tamat 10.2.2014.


Ha, sapa yang tak kenal kan dengan blogger yang sangat-sangat awesome bila menulis entry. Shad suka giler kalau bab-bab nak membaca entry review dari Blogger Yumida. Memang awesome habis lah. Kalau u all nak belajar cara buat entry yang best, kena terjah dan baca entry-entry kat blog Sis Yumida. Blogger Yumida pun selalu jugak buat giveaway. Yang bestnya, part teka-teka gambar tu lah. Awesome habis.
Tak yah cerita banyak, jom kita terjah Blogger Yumida. Rugi kalau tak berkawan dengan blogger yang rajin singgah blog kita, rajin tinggalkan komen ni. Blogger Yumida like to share with you all tentang Nuffnang, Resepi, Review, Drama TV dan banyak lagi dan semestinya sangat membantu and berguna. Jom terjah.
Blogger Mama Darwiish pun awesome jugak u all. Shad suka baca entry-entry Mama yang cerita resepi-resepi tu. Perut tiba-tiba berbunyi je time baca entry bab makanan ni. Hehe. Mama Darwiish like to share with us tentang Tutorial, Novel, Resepi, Tazkirah, Parenting dan banyak lagi tips yang bermanfaat untuk anda. Jom terjah Blog Mama Darwiish,
Here we go, Blogger Azurah. Masih newbie shad rasa. Inilah masanya kita nak support sesama blogger kan. Tak gitu. Shad ucapkan Selamat Datang ke dunia blogging. Banyak lagi ilmu-ilmu blog yang kita nak terjah sama-sama ni.
Jom terjah Blog Bunga Teratai Ungu
Done entry promot sponsor GA Shad.
Yang belum join, jom sama-sama. Klik banner kat bawah.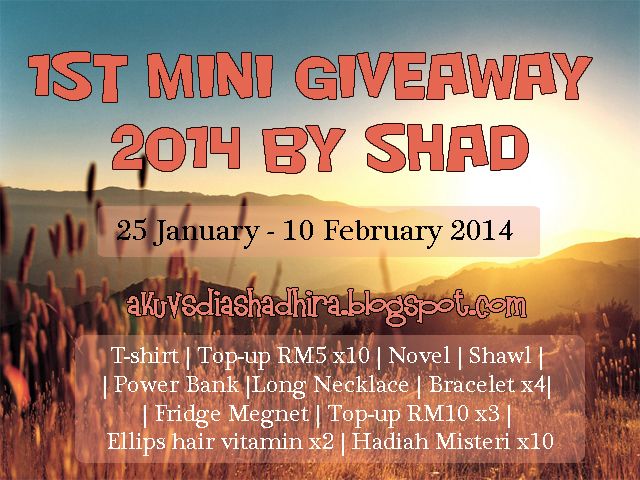 Lot's of Love from Shad,
7.2.2014