CPUV Nuffnang 77 & 78 | Lactacyd Malay Millennium & Maybank #ILove
1:19 PM
Greetings and Assalamualaikum to readers.
Thank You Nuffnang bagi iklan CPUV lagi dekat blog Shad.
Dua iklan CPUV tengah running untuk Dis 2014.
Walaupun 2 it's oklah dari tak ada kan. Currently ada 6(x3) iklan tengan ongoing.
Alhamdulillah. Terima kasih viewers and readers.
CPUV Nuffnang 77 | Lactacyd Malay Millennium
Add from Nuffnang kali ni concerning about Lactacyd. Pembersih Wanita.
Lactacyd sekarang ni tengah buat promosi percuma Lactacyd Revitalize 60ml.
Okey, daku ni pantang jugeee kalau nampak perkataan PERCUMA nih.
CPUV Nuffnang 78 | Maybank #ILove
Maybank #ILove.
Maybank is spreading our love to the community through a series of special offers for its card members and mortgage customers. From a chance to win a Polo Sedan when you apply for a new Maybank Credit Card and start spending, to 100% Cashback when you spend using your Maybank credit card. Don't miss out on these offers now!
======================================================
Program Mykad Smart Shopper
Jom Aktifkan Mykad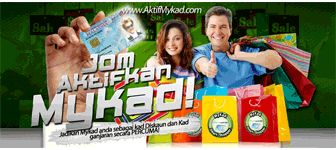 Jika sudi, G+1 Entry/ Like atau Share Entry Jom Aktifkan Mykad Shad ya.
Terima kasih semua. Jasa anda dikenang.