CPUV Ke-81 dari Nuffnang | Nestle Kitkat Launch
11:02 AM
Greetings!
Thank you again. And again.
CPUV Ke-81 dari Nuffnang | Nestle Kitkat Launch
CPUV Ke 2 #2015


Tunggu punya tunggu, tak keluar pulak iklan ni. Hehehe.
So tak taulah ini iklan pasal apa. Yang penting tau Kitkat sudah..

Rasanya Kitkat launch produk baru ni.. Alahai, mesti sedap kan.
Sebut Kitkat ja pun dah melting habis nih.. Nak-nak kalau ada org bagi FREE.
Kann.. Benda yang orang bagi ni selalunya sedap kan. Hehhe.

Maaf andai entry ni macam lost sikit. And it's empty without putting my heart when I write
this entry. Allahuakbar. May Allah ease everything.

================================
Kita sering kali bertanya."Kenapa aku tidak dapat apa yang aku idam-idamkan?".
Quran menjawab,"Boleh jadi kamu membenci sesuatu padahal ia baik bagimu.
Boleh jadi kamu menyayangi sesuatu padahal ia buruk bagimu.
Allah mengetahui sedang kamu tidak mengetahui." - Surah al-Baqarah,ayat216..
===========================
Program Mykad Smart Shopper
Jom Aktifkan Mykad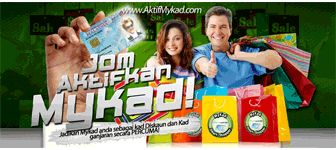 Jika sudi, G+1 Entry/ Like atau Share Entry Jom Aktifkan Mykad Shad ya.
Terima kasih semua. Jasa anda dikenang.